These Costumes Will Ensure You A Howling Good Time On Halloween
Is Halloween during a full moon this year? Doesn't matter. You can still be a werewolf.
There are plenty of different options for werewolf costumes. Grey ones. Brown ones. Ones for men, women and kids. Take your pick. They're all scary and great for Halloween.
Here you'll find some great werewolf costumes to consider. Whether you want to be a scary and vicious monster or just have a bit of fur sticking out from under your clothes, you'll find all the best costumes here. These are the best deals on werewolf costumes that you're going to find and there are tons to choose from.
If you like the costume to the left,
you can get it here from Amazon:
The Wolfman Movie, Child's Wolfman



Werewolf Costumes For Men
Full Moon Madness Werewolf Costume
The werewolf costume to the left is actually pretty cool. The face is animated. Whenever you open your mouth and growl, the mask's mouth will also open.
The men's costumes below are pretty nice too. There's one for the bigger guys. There's one that's completely wolfed out and all his clothes are gone. Then there are two with what remains of their clothes still clinging to them – one with black fur and one silver wolf.
&
Deluxe Werewolf Costume
Black Werewolf Costume
Silver Werewolf Costume
Werewolf Full Fur Costume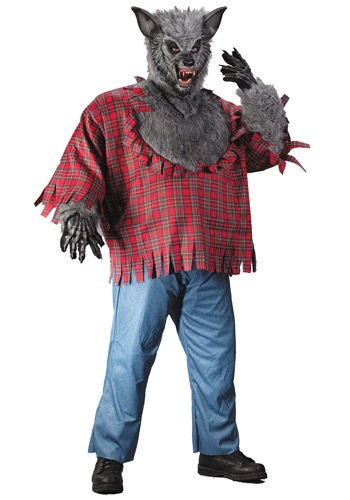 Gray Plus Size Werewolf Costume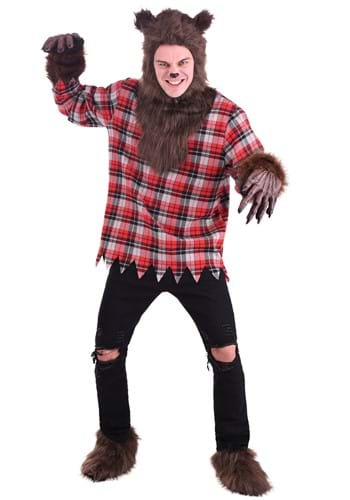 Werewolf Costume
---
Werewolf Costumes For Women
There's really no law that says a woman can't wear one of the men's costumes above. They cover everything so no one would be able to tell who or what gender you are underneath. But if you want a costume that's decidedly more feminine, these should do the trick. One features a furry, grey hood (with cute pointed ears), a furry skirt and a tail while the other has torn clothes with furry ears and wrists and ankles.
Full Moon Sass Werewolf Costume
Sexy Werewolf Dress
---
Werewolf Costumes For Kids
The kids have options too in werewolf costumes. There are grey and black werewolves in flannel shirts or one in a ripped tee-shirt. There are costumes specifically for the girls. There's even a little werewolf cub.
---
Werewolf Costume Accessories
If you prefer, you can get these individual pieces and put together your own costume. You've got all of the fur, claws, ears and teeth that you need to make a great werewolf costume.
Werewolf Ears
Werewolf Synthetic Hair
Werewolf Teeth
Werewolf Nose
Werewolf Hands
Werewolf Ears
---
If you're planning to go out on Halloween night with someone else, one of you could be a wolf and one of you could be Little Red Riding Hood. There are some great Little Red Riding Hood costumes right here:
Best Little Red Riding Hood Costumes
---
Discounted Werewolf Costumes
See all of eBay's werewolf costumes here:
Werewolf Costumes
---
Didn't Find What You Were Looking For?
Search For More Werewolf Costumes Here
See all of the available werewolf costumes and accessories here:
Werewolf Costumes
Related posts: